Page 15 - Gujan-Mestras // Guide 2020
P. 15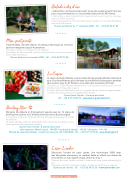 Balade à dos d'âne
« Cabriol'âne » est heureux d'accueillir les jeunes cavaliers à partir de 2 ans pour une promenade sur un circuit balisé et sécurisé de 300 mètres.
« Cabriol'âne » welcomes kids from 2 years old who want to go for a donkey ride on a 300m long track.
Cabriol'âne recibe los niños de 2 años para un paseo en una pista balizada y segura de 300 metros.
Ouvert du 8 février au 1er novembre 2020 - Tél. : +33 6 81 00 01 84
        Mini-port pirate
Insubmersibles, de taille réduite, les bateaux électriques du mini-port peuvent transporter jusqu'à 4 personnes.
The electric boats can transport up to 4 people.
Inhundible, de talla reducida, las naves eléctricas del mini puerto pueden llevar hasta 4 personas.
Ouvert de février à novembre 2020 - Tél. : +33 6 50 99 72 48
Le Casino
Le casino de Gujan-Mestras vous accueille dans sa grande salle des machines à sous. Pour les ambiances plus intimistes où se mêlent bluff et suspens, pénétrez dans le salon cosy du Sir Winston où se déroulent les parties de Poker.
The casino of Gujan-Mestras welcomes you in its big slot machine room. A more intimate room invites poker players.
El Casino de Gujan-Mestras le acoje en su grande sala de máquinas tragamonedas. Un salón más íntimo espera a los jugadores de poker.
Ouvert toute l'année - 2 avenue des loisirs
Tél. : +33 5 57 73 00 78 - www.casino-gujanmestras.fr
                Bowling Star
   Moments de détente et d'amusement assurés avec les 16 pistes de bowling ainsi qu'avec les 2 billards américains et les 8 pools anglais.
A nice place to have fun in family with the 16 bowling lanes (and 2 for kids) and billards.
16 pistas abiertas todos los días desde 14h a las 2h de la mañana, 2 mini pistas para los más pequeños y billares.
Ouvert toute l'année - 8 avenue des Loisirs
Hors vacances : Mardi à jeudi : 14h-00h / vendredi et samedi : 14h-2h / dimanche : 14h-19h
Période de vacances scolaires : ouvert tous les jours 14h-1h00/2h00 - Tél. : +33 5 57 15 39 45 - www.bowlingstar.fr
         Laser Lander
Découvrez l'univers de Laser Lander. Une technologie 100% laser, des labyrinthes déroutants, un matériel fiable et offrant une liberté de mouvement, un loisir sportif unique venant du futur !
Discover the Laser Lander universe: 2 rooms with crazy mazes are waiting for you.
Ouvert toute l'année - Tél. : +33 5 56 54 31 26 - www.laserlander.com BASSIN DES LOISIRS > 15
Descubre el universo del Laser Lander : 2 salas con laberintos le esperan.